Oil Catch Can for Mercedes A45 AMG FMCT2 by Forge Motorsport
Description
Product Description
*Before purchasing, please be sure to check compatibility using the guide at the end of this page*

This oil catch tank kit is the product of many months of intensive research and development by our in-house development team, and the end result is by far the most complete oil collection system currently on the market. Not only is it beautifully designed, it has been created to capture the maximum amount of harmful contaminants, including oil deposits, unused fuel vapours and moisture, all of which would ordinarily make their way back through to the inlet of the engine.
Extensive testing has proven our oil catch tank's ability to effectively reduce sludge and carbon build up, in turn allowing the Mercedes M133 engine to both breathe and perform more efficiently. It can therefore be viewed as a genuine performance enhancing product and one we recommend any owner of this vehicle seriously consider, particularly if they are planning more advanced power tuning at a later date.
The 0.4l (400cc) catch tank boasts a slew of features intended to make it both easy to check and simple to drain, including a dipstick for level inspection and a well-placed drain tap.
The design of the hose kit has also been carefully considered, hence its inner tube which is constructed from anti-static smooth fuel resistant nitrile rubber. This is paired with an outer cover made from reinforced stainless-steel wire braid (a Forge specialty), specifically a partial inner braid and a full cover outer braid. We developed this complex arrangement in order for the tank to be resistant to both pressure expansion and vacuum collapse, and also to enable the kit to function within a clearly defined temperature range -54°C to +150°C (-65°F to 300°F)
Finally, the kit features a pair of stainless steel reinforced oil resistant hoses with black external braiding, which combine with the supplied fittings to form an OEM-looking product when installed, so much so that the engine cover can still be clipped into place!
Compatibility Guide

Before purchasing this item, please check that your engine has a compatible type of breather hose as there are 2 variations fitted to the Mercedes M133 engine fitted to the A45 AMG. The hoses included with this kit use Norma type hose fittings as shown in the images below and will not fit engines with Bayonet type hose fittings.
To check your vehicle, you will find the hose fittings in the
area circled below.


Normal type fitting – This kit will fit your vehicle.
Bayonet type fitting – This kit will not fit your vehicle.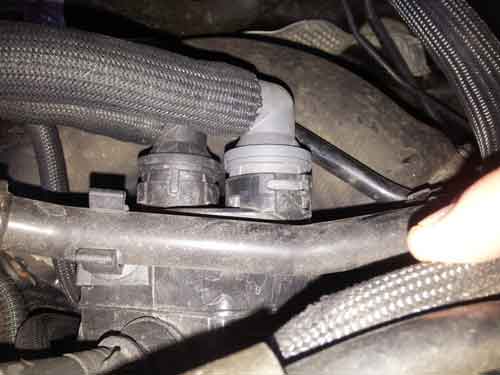 Please also note: If your vehicle is fitted with this airbag canister, this catch can will not fit your vehicle:
Highlights
0.4L capacity*
A drain tap for ease of emptying.
A dipstick for simple level inspection
2 Quality stainless steel reinforced oil resistant hoses with black external braiding for that inconspicuous look
Fully assembled with fittings to suit the OEM connections
Inner tube is constructed from anti-static smooth fuel resistant nitrile rubber
Outer cover is constructed from reinforced Stainless Steel wire braid consisting of partial inner braid & full cover outer braiding which is resistant to pressure expansion and vacuum collapse
Temperature Range: -54°C to +150°C (-65°F to 300°F)
Can be installed in less than 30 minutes
Installation is straight forward with all necessary fittings and instructions included

*Dipstick level is set at less than 0.4L for optimum breathing.
Returns Information
30 Days Returns Guarantee If we have made a mistake, please contact us so we can resolve the issue immediately. For most items, you have the right to return your goods within 30 days of receiving them. However, this right does not apply to items that have been altered upon request, have missing labels or show signs of being used. If you wish to return goods using this right, you need to inform us within 21 days of receiving the goods. You must take reasonable care of the goods and immediately return them at your own expense. Please ask for a "Proof of posting certificate" as we cannot be held responsible for goods that go missing whilst in transit. If you think we've sent you the wrong item or size, please double check the full description in the listing, including the UK size before requesting a return. If you have incorrectly ordered the wrong item we can exchange the item subject to stock availability, however additional postage charges will apply. To request a return please submit the request using the contact us form/ Site Returns process. Our returns address will be provided. To request an exchange please contact us through our contact page. Thank you.